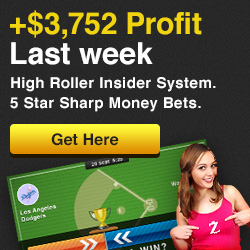 Here's my Zcode System review…
I'm not a professional sports betting… I don't live exclusively from it… But I think I could!
I have a successful online business that requires a lot of attention and work… and that's the only reason why I don't live exclusively from sports betting. But within one year I might sell my business and then I'll start doing what I like… betting!
Over the years, I've spent a lot of money in many invincible betting systems that usually turned out to be a failure… Three years ago I came across Zcode System and everything changed. So, if I hope that after you read this Zcode System review you decide to go ahead and start being successful!
Zcode System isn't really a system… It's a community of experts and sports betting enthusiasts that join their efforts in order to help each other to be successful. Everything I know about sports betting… what to do and what not to do… I learned from Zcode System experts and members.
I've learned so much that I had to give back something… As I am a statistics freak and just love to scrap numbers and data I've created the MLB O/U% System that was extremely profitable for 2 seasons…
But let's stop talking about me and start talking about what matters… how can Zcode System help you be successful in sports betting?
Here's how the Zcode System account looks like:
As you can see in the screenshot Zcode System has the following sections:
Overview
Zcode VIP Picks
Hot Trends
Z-Lab
Performance
Contests
Almanach
Tutorials
Bookmakers
Bonus Tools
VIP Forum
Support
It can be a bit overwhelming at first with so many sections and information, but you'll soon know where all the important information is!
In your first login, it's important to read all the information in the Overview section. There you can find 5 steps to follow to get to know Zcode and to take the most out of it.
For me, VIP Picks is the most important section… There isn't a day without browsing this section top to bottom…
In this section, members can place comments, thoughts, and picks in the Daily Recap Wall
You'll also find all the data and recommendations for all the MLB, NHL, NBA, NFL, NCAAF and NCAAB daily games. Here's an example of the NHL game Vancouver Canucks at New York Rangers:
Another feature that is really awesome is the zcode system game predictor. For each and every game Zcode will give a predicted score for both teams and you'll be amazed how often they are correct!
In the Hot Trends section, you can see a list of the systems that are performing best.
This a great place to choose a top performing system.
The Zcode Lab is where the magic happens… It's an AMAZING set of tools divided into 3 levels to help you choose what is best for you.
If you're new to betting and have no time to analyze stats you should choose LEVEL 1 tools and resources.
Wondering how your team is trending? Is this pitcher profitable? Where is the line moving? What is the amount of public on this side? Then you should choose LEVEL 2 tools and resources.
LEVEL 3 is for experts and more experienced sports bettors. If you got a great idea and want to backtest it out on historical data? Or found great settings and want to follow the signals? Then this is the right place for you to develop your own winning system!
You'll love the Contests section… Constantly Zcode is promoting contests and giving prizes to the winners! This is awesome… You can participate and win prizes or you can follow the contest winner's picks and profit from it!
In the Bonus Tools section, you'll find many useful tools that you can use to help you determine your daily bets.
One of the most useful tools is the Line Reversal Tool. It's an incredibly helpful indicator on how the line moves and how the odds change throughout the day. It will help you identify the sharp money moves and avoid betting against Vegas and will also display the Vegas percentages.
I'm a huge fan of TOTALS systems, so I use a lot the Totals Predictor tool.
Then you have the VIP Forum section. It is the most complete Sports Betting forum in the World…
The Prediction & Picks Forum is my favorite. Here you'll find threads about:
Cash Contests & Championships
POD: Pick Of the Day
Current Hot Trends
NHL and KHL Hockey Picks
MLB Baseball Picks
NFL Football Picks
NBA Basketball Picks
College Sports Picks (NCAAF, NCAAB)
Soccer Sports Picks
Horse Racing Picks
Roulette Systems
Other sports picks (Volleyball, Tennis, NRL/AFL)
Trading Stocks, Bitcoin, and Forex
But how about practical results? Is there a proof that Zcode yields winning picks?
Well… check this out…
College Basketball picks… +$14,761 in the last 2 weeks alone!
Here are some zcode system picks:
Zcode's verified betdog account shows a global profit of 176023 Euros with a ROI of 28%… pretty amazing… isn't it? And this is just one account…
So… Are you still struggling to win in sports betting? Still not a member and missing all the profits?
I really RECOMMEND Zcode System. Whether you're a total newbie and an experienced bettor Zcode will give you the tools you need to succeed!
And that's it for my zcode system review… Hope it helps! 🙂