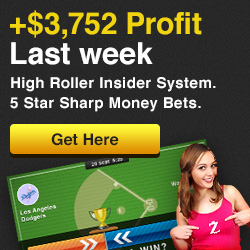 I've started to use the MLB Underdog System…
This system uses 3 variables.
I can tell you all about 1 of them… it's quite simple… I choose underdog teams with odds between 2.0 (+100) and 2.5 (+150).
The other 2 variables are related to the short-term winning/losing team performance and the Pitcher's ERA.
I've started April 14th.
The results so far:
April 14th
Atlanta ML $10 @ 2.06 – LOST
Arizona ML $10 @ 2.20 – LOST
Colorado ML $10 @ 2.10 – WON
Tampa Bay ML $10 @ 2.35 – WON
 Texas ML $10 @ 2.04 – WON
Detroit ML $10 @ 2.06 – WON
LA Dodgers ML $10 @ 2.10 – WON
NY Yankees ML $10 @ 1.971 (shouldn't have bet this one) – LOST
Oakland ML $10 @ 1.971 (shouldn't have bet this one) – WON
W/L= 6/3
P&L = +$36.21
April 15th
Atlanta ML $10 @ 2.10 – LOST
Cincinnati ML $10 @ 2.16 – LOST
Milwaukee ML $10 @ 2.45 – LOST
Arizona ML $10 @ 2.16 – LOST
Colorado ML $10 @ 2.05 – WON
NY Yankees $10 @ 2.04 – WON
Oakland ML $10 @ 2.13 – LOST
Washington ML $10 @ 2.07 – WON
Detroit $10 @ 2.41 – WON
Texas ML $10 @ 2.05 – LOST
W/L = 4/6
P&L = -$14.30
Acc W/L = 10/9 (53.6% Winning Rate)
Qcc P&L = +$21.91