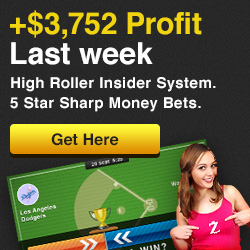 Philadelphia won and also did I!
The results since 29th of April are 36-18 (winning rate of 67%) and up 6.08 units (if unit is $100 the P&L is $608)
Today I begin new series:
A bet – Cincinnati Reds ML @ 1.667 (1 unit)
A bet – Oakland Athletics +1.5 @ 1.488 (0.5 units)
Why do I sometimes place a 1 unit bet and other times a 0.5 unit bet in a A bet?
It really depends on the confidence. For example, Cincinnati a Home Favorite and almost surely will 1 out of 3 games. The Oakland Athletics are Road Underdog (for this 1st game of the series)… I think that they will win at least 1 game out of the 3, but because they are playing on the road I'm betting only 0.5 units.